Welcoming spring with the annual Winter Games From bocce to bowling, ping pong to putting, a bevy of contests drew a record number of The Terraces' residents to participate and to spectate. Staff and resident volunteers assisted with organizing the games, keeping score, and cheering on the contestants. Independent Living residents competed in cup stacking, […]
When visitors tour The Village at Gainesville, they often want to know how they'll be spending their time as new ...
Assisted living offers a significant amount of security, peace of mind and confidence for both the resident and ...
Did you know that bald eagle moms gather and deliver food to their babies in the nest without regurgitating it ...
When Don and Pat King moved to The Terraces at Bonita Springs, they brought more than furniture and clothing with ...
Welcoming spring with the annual Winter Games From bocce to bowling, ping pong to putting, a bevy of contests drew a record number of The Terraces' residents to participate and to spectate. Staff and resident volunteers assisted with organizing the games, keeping score, and cheering on the contestants. Independent Living residents competed in cup stacking, […]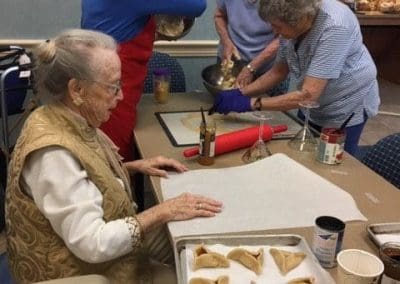 Sweet celebration at The Terraces at Bonita Springs The residents at The Terraces at Bonita Springs recently gathered to bake more than 80 hamantaschen pastries in preparation for the Jewish festival of Purim beginning.  Seven residents of the luxury senior community enjoyed the warmth and camaraderie of baking together in the community kitchen, sharing family stories […]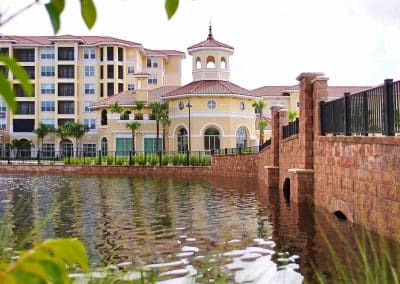 Residents and guests at The Terraces at Bonita Springs are better equipped to declutter and get organized thanks to a lively, interactive presentation by Naples' PREMIER Professional Organizer® and Naples Daily News Get Organized columnist Marla Ottenstein which took place on March 6 and 7. Whether you are facing important life changes, or downsizing to […]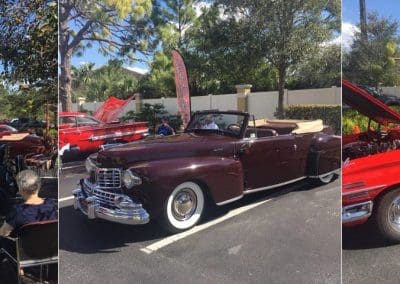 Under the bright Southwest Florida sunshine and clear blue skies, residents at The Terraces at Bonita Springs enjoyed a display of vintage classic cars, all in beautiful mint condition. Presented by the Cool Cruisers, local owners showed off their cool automobiles: a 1934 Plymouth coupe with rumble seat; a 1947 Lincoln Continental; and a 1960 […]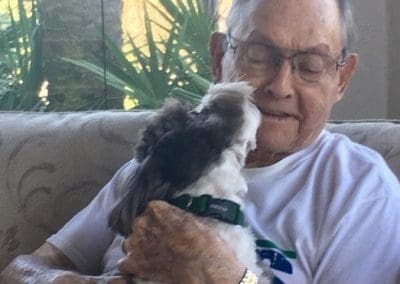 Notable author Edith Wharton once wrote, "My little dog – a heartbeat at my feet." And sure enough, if you stroll the lovely welcoming hallways at The Terraces of Bonita Springs, you will soon encounter a host of friendly residents, both of the two-legged and four-legged variety. As a pet-friendly luxury senior living community, The […]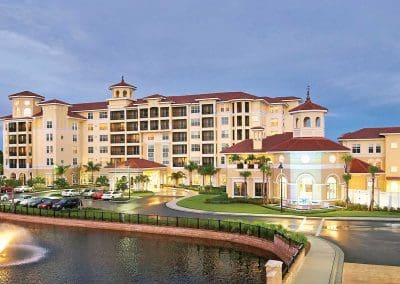 Award-winning Naples artist Jen Norqual, owner of Docks by Jen, shares her expertise and love of the arts with residents at The Terraces at Bonita Springs during monthly sessions of "Cocktails & Canvas." Gaining in popularity, independent living and assistant living residents look forward to the opportunity for self-expression and creativity as Jen provides an […]
She was editor of the college newspaper, he was a junior in college as well. By luck or fate, his college roommate introduced Floyd to Mary Lou and the rest, as they say, is "history." Today, the Willisons celebrate more than six decades of marriage from their home at The Terraces in Bonita Springs, where […]
Denise McNulty shares advice on aging gracefully Inspiring stories and words of wisdom flowed on Feb. 6 as Denise McNulty, DNP, MSN, ARNP of Lee Health presented advice on Aging Gracefully at The Terraces at Bonita Springs. A nurse and nurse teacher at Ave Maria University, Ms. McNulty shared her observations from a wide of […]