June 1 marks the start of hurricane season. Across the country, people worry about whether they are prepared to ...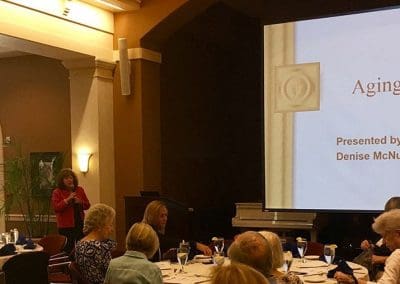 Denise McNulty, DNP, MSN, ARNP at Lee Health joined us last week to provide important words of wisdom. Inspiring and quotable, some of the advice she shared included: "It's all in your mind and how young you feel." "You need to love yourself first before you can love others." "You are deserving of happiness, love, […]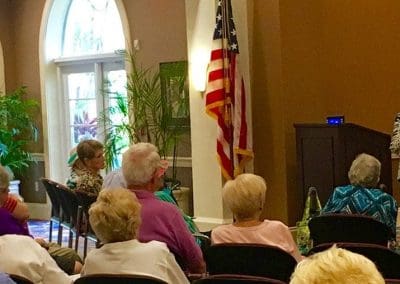 Life and vitality are always on the forefront at The Terraces at Bonita Springs. As part of a continuing educational series on health and lifestyle, Dr. Samira Beckwith, president and CEO of Hope Healthcare Services, facilitated an informative and lively discussion about her organization and their role in the community. Resident Marjorie Rubacky helped coordinate […]
Pump the tires? Yes! Jump the battery? Of course! Bring the groceries up or the luggage down? Absolutely! At The Terraces at Bonita Springs, valet service means so much more than simply bringing the car around. Valet Gary Schuler sparkles with fun and humor when he shares information and anecdotes about The Terraces' wonderful team […]
Fun and fashion ruled the day at The Terraces at Bonita Springs last Friday, as a festive Florida-style Fashion Show got underway. The latest in summer style was on display, showcased by Southwest Florida's most beautiful models – our residents. Thanks to Chico's, Charleston Shoe Co., and a local, private jeweler, each outfit was perfectly […]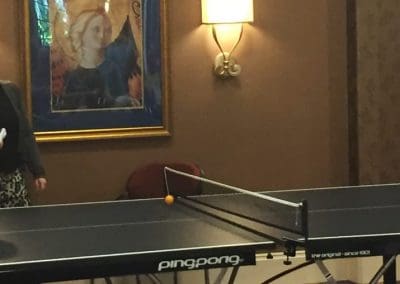 Chipping, shuffleboard, swimming, bocce, and a variety of other events were included on the Olympic program that took place during the last week in March at The Terraces at Bonita Springs. Residents came out in force to try their hands (and feet) at a variety of activities, getting into the spirit of competition and winning […]
A delicious lunch wasn't the only thing on the menu at a recent gathering at The Terraces at Bonita Springs. Guests were also treated to a light-hearted panel presentation from seven of the senior luxury community's residents. Dr. Bernie Feldman, Judy Spletzer, Bob Urich, Carla Keogh, Joanne McCartney, Sheila Pedisich, and Marji Tronvold shared experiences […]
Sparkling sunshine and a picture-perfect blue sky set the scene for a fun-filled day marking The Terraces at Bonita Springs' 5th anniversary. Residents and associates were treated to a delicious picnic lunch and a host of activities including a bounce house and bungee racing. Families and children joined in, adding to a very special day […]
Presentation focuses on heart healthy nutrition More than 40 people attended a special presentation on Heart Healthy Nutrition hosted The Terraces at Bonita Springs in honor of American Heart Month. Expert nutritionist Carrie Bloemers, MS, RDN, LDN of Lee Health provided detailed information on how a plant-based diet can be more effective than medication to […]
BONITA SPRINGS, Fla. – The Terraces at Bonita Springs, a luxury senior living community, has appointed Sam Guedouar, MHA as its new executive director. Mr. Guedouar relocated to Southwest Florida from Long Island, New York where he was executive director of a continuing care retirement community in Port Washington. Although Mr. Guedouar has built his […]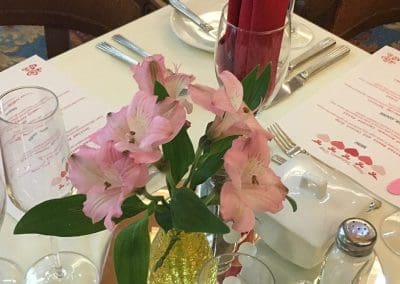 How it all started Bud and Jo Ann Vogel, residents at The Terraces in Bonita Springs, shared their love story this month in honor of Valentine's Day. Growing up in Grafton, West Virginia, a small town where everyone knew everyone, Bud was dating Jo Ann's friend, classmate, and bandmate when the two first met. Bud […]
Chef Martin and culinary team cook up flavorful, unique, and healthy menus from around the world They say that the kitchen is the heart of the home, a phrase near and dear to Chef Briham Martin, executive chef at The Terraces at Bonita Springs. A veteran of Southwest Florida's culinary community since 2005, Chef Martin […]
June 1 marks the start of hurricane season. Across the country, people worry about whether they are prepared to ...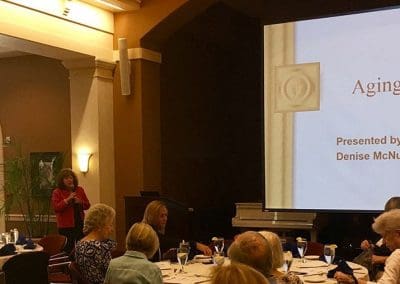 Denise McNulty, DNP, MSN, ARNP at Lee Health joined us last week to provide important words of wisdom. Inspiring and quotable, some of the advice she shared included: "It's all in your mind and how young you feel." "You need to love yourself first before you can love others." "You are deserving of happiness, love, […]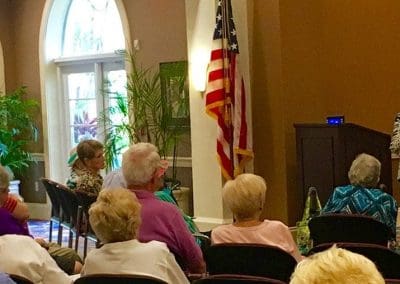 Life and vitality are always on the forefront at The Terraces at Bonita Springs. As part of a continuing educational series on health and lifestyle, Dr. Samira Beckwith, president and CEO of Hope Healthcare Services, facilitated an informative and lively discussion about her organization and their role in the community. Resident Marjorie Rubacky helped coordinate […]
Pump the tires? Yes! Jump the battery? Of course! Bring the groceries up or the luggage down? Absolutely! At The Terraces at Bonita Springs, valet service means so much more than simply bringing the car around. Valet Gary Schuler sparkles with fun and humor when he shares information and anecdotes about The Terraces' wonderful team […]
Fun and fashion ruled the day at The Terraces at Bonita Springs last Friday, as a festive Florida-style Fashion Show got underway. The latest in summer style was on display, showcased by Southwest Florida's most beautiful models – our residents. Thanks to Chico's, Charleston Shoe Co., and a local, private jeweler, each outfit was perfectly […]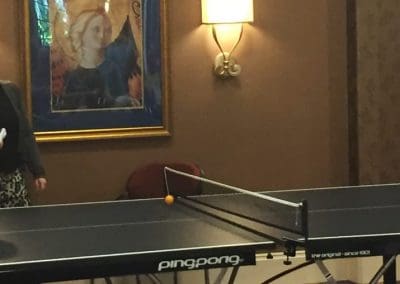 Chipping, shuffleboard, swimming, bocce, and a variety of other events were included on the Olympic program that took place during the last week in March at The Terraces at Bonita Springs. Residents came out in force to try their hands (and feet) at a variety of activities, getting into the spirit of competition and winning […]
A delicious lunch wasn't the only thing on the menu at a recent gathering at The Terraces at Bonita Springs. Guests were also treated to a light-hearted panel presentation from seven of the senior luxury community's residents. Dr. Bernie Feldman, Judy Spletzer, Bob Urich, Carla Keogh, Joanne McCartney, Sheila Pedisich, and Marji Tronvold shared experiences […]
Sparkling sunshine and a picture-perfect blue sky set the scene for a fun-filled day marking The Terraces at Bonita Springs' 5th anniversary. Residents and associates were treated to a delicious picnic lunch and a host of activities including a bounce house and bungee racing. Families and children joined in, adding to a very special day […]
Presentation focuses on heart healthy nutrition More than 40 people attended a special presentation on Heart Healthy Nutrition hosted The Terraces at Bonita Springs in honor of American Heart Month. Expert nutritionist Carrie Bloemers, MS, RDN, LDN of Lee Health provided detailed information on how a plant-based diet can be more effective than medication to […]
BONITA SPRINGS, Fla. – The Terraces at Bonita Springs, a luxury senior living community, has appointed Sam Guedouar, MHA as its new executive director. Mr. Guedouar relocated to Southwest Florida from Long Island, New York where he was executive director of a continuing care retirement community in Port Washington. Although Mr. Guedouar has built his […]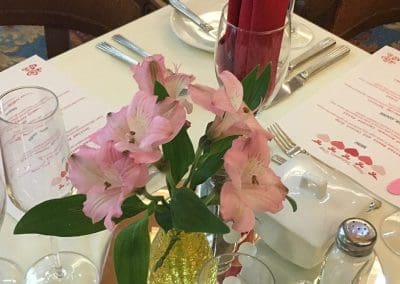 How it all started Bud and Jo Ann Vogel, residents at The Terraces in Bonita Springs, shared their love story this month in honor of Valentine's Day. Growing up in Grafton, West Virginia, a small town where everyone knew everyone, Bud was dating Jo Ann's friend, classmate, and bandmate when the two first met. Bud […]
Chef Martin and culinary team cook up flavorful, unique, and healthy menus from around the world They say that the kitchen is the heart of the home, a phrase near and dear to Chef Briham Martin, executive chef at The Terraces at Bonita Springs. A veteran of Southwest Florida's culinary community since 2005, Chef Martin […]